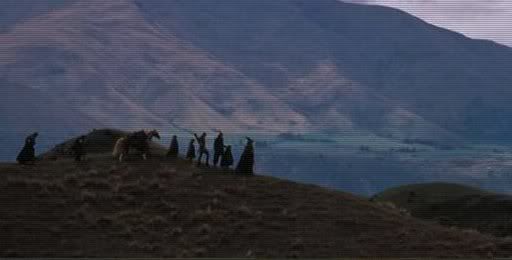 If anyone wonders about the "Leaves of Lothian"...I'm a Gawain freak. Yep, Gawaine of Lothian, son of King Lot. Lothian was his land, one that he never claimed as the eldest son after Lot died. Pity, that. For an electronic copy of Le Mort by Mallory, here's a linky: http://etext.lib.virginia.edu/toc/modeng/public/Mal1Mor.html

For more fun, free research texts, try Project Gutenberg:

http://www.gutenberg.org/

Today has been a day of trying to get my stored pics to work w/the blog and goofing off. I threatened to break out the knitting machine and knit a blanket from the new yarn I bought. There is a lovely deep teal yarn begging to be crocheted or knit into a lovely, huge blankie.

I'm reading smut, but what's new? I love erotic fiction and am ever glutting myself . Looking at pics can be exciting, as can watching movies, but I do adore a decent D-I-D (damsel-in-distress). www.bondedhearts.blogspot.com looks like it will be deliciously wicked thanks to the infinitely naughty mind of it's founder, the lovely Regan.

Poetry for the day:

Streets of Madness and Vapor

Oh Queen of Realms far
Beneath ice-capped waves
Selkie dreams
Streets of madness and
vapor-
Whispers to we poor mortal
souls
Drawing us
Drowning us in swathes
of pale grey linen
And shivers of the North Wind
We walk our days in
half-lit shadows and we
see
nothing that intrigues
or heart
For the heart that beats to
a Faerie's song
was lost long before
the sky lightened with day.
Mastering forgetting
Relinquishing the ghost
of a life to walk amongst
the lilies and feel the
soft caress
of a sylph's fingertips
on your ankles
your thighs
And still we cling to
reality as if it were
capable of closing
soul-doors, dark mysteries
once opened.
We are fools
who cry out to keep the despised
clasped fiercely to our
breasts-
Lost, we follow not the
Silver Branch.
To you, I bid goodbye
For I have gleaned my
maiden's whisper
from the chafe of bitter
noise and dead, dull eyes
and I chose to ride
to where the land meets sea
meets sky
And wait for her to
call to me
The Dragon track I will
follow
Power, a pulse of my heart
And to you who choose
To forget her music
I will weep no more.

© M. W.
July 31, 2004
Blue Moon


Trying to get past my lust for Freeform Crochet, but I'm failing. http://www.eject.com.au/e-motive/prudence/whatis.htm

Altered Art is the other madness that tickles the edge of my brain and here's the last book added to the Library of Alexandria growing in my house:
http://www.amazon.com/exec/obidos/tg/detail/-/1592530192/ref=pd_bxgy_img_2/002-2336102-2603200?v=glance&s=books

It's called "Artists Journals and Sketchbooks: Exploring and Creating Personal Pages" by Lynne Perrella.

What a scattered blog. Aquarian.

Today is St. Paddy's day, a day I typically will not celebrate. Something about that whole "driving the snakes out...", snakes being a euphemism for Druids. http://www.newadvent.org/cathen/11554a.htm. There is an "official" story here.

Here's a great Druidry site: http://druidry.org/. Future posties will enclude cool sites I dredge up.

Writers Challenge for the day:
"Write about an ordinary ritual in which something goes terribly wrong."
Poetry Challenge for the day:
"Describe fat birds snuggled atop tree branches on a cold winter's day, and why they are on that particular tree."

More later...