I'm a procrastinator of the highest order. If I were anything less, then I'd be all about getting my art supplies organized and I'd be in the midst of spending most of my free time indulging my creative addictions by journaling in an altered art style.
I need a big, huge thingy of gesso to alter books already printed so that I can pour out my overcrowded brain in massive spurts on the pages and then embellish it all with paint, beads, found paper items, stamps, leaves....ephemera.
Truth being, if I were less of a procrastinator, my room would be organized and I'd be able to find all of my books and supplies without bloodhounds. I love the idea of taking old textbooks, old beat up nothing books who no one loves (who needs a business law textbook from 1974?) and turning them into works of art or shared journals mailed among friends!
http://www.art-e-zine.co.uk/contents.html
A wondermous linky to let you know what I'm rambling on about. Here's an example from their site (unauth'd use w/many kind thanks):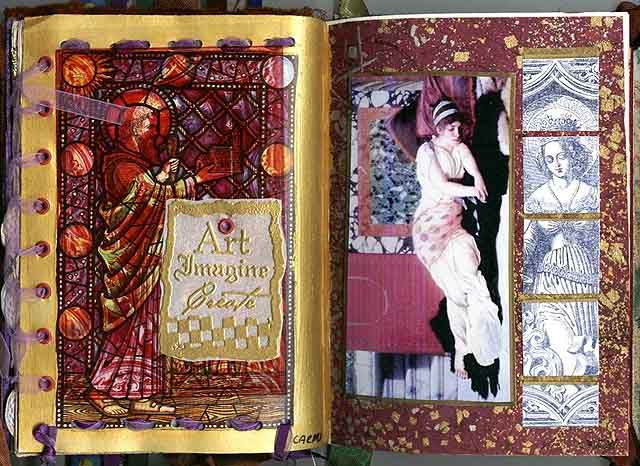 My other hot desire at the moment is embellishments, which is like altered art on cloth.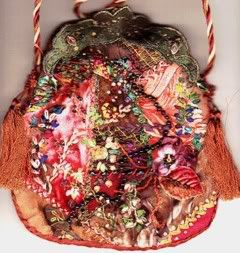 (Kind thank you's to Lilla Le Vine for this unauth'd use. Please visit this fantastic site at
http://www.art-e-zine.co.uk/lilla.html
)
Alas, I have to crash for work which comes in 4 hours. My stomach has been unholy evil and I've lost three days of off-time to gross non-productivity thanks to 36 bathroom trips in as many hours coupled with 102 degree temps (for me, that's a 5 degree above norm temp!).
I'll miss everyone for the three days I'm at work!